Meetings and Events, 2021-22
Tiverton and Mid Devon A. S. events are held in the main hall at Blundell's Prep School at 7:30pm, usually on the first school-term Friday of the month. No previous knowledge of astronomy is necessary, so if you are at all interested you are very welcome to come along. Many of us are regular attenders at our informal meetings, but a warm welcome is always given to new faces.
For directions, please find us on Google Maps: visit maps.google.co.uk and type in the school's postcode, EX16 4NA. The school is on the south side of Blundell's Road. The school's full address is: Blundell's Preparatory School, Blundell's Road, Tiverton, Devon, EX16 4NA.
Covid-19: Important Information About Meetings
Update: January 2022
The committee has decided to resume meetings in person at the hall from our March 2022 talk onwards. Meetings will be socially-distanced and the hall will be well ventilated, and you may wear a mask if you wish.
If you require any further information regarding the society and its events please contact the Chairwoman or Events Co-ordinator.
Your support, patience and understanding is very much appreciated during these unprecedented times.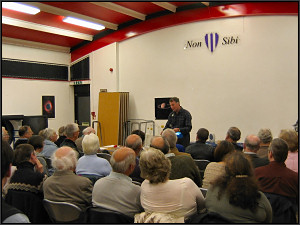 Date
Subject / Speaker
2021
Friday 3rd September

DELIVERING A SOFT LANDING ON MARS FOR NASA'S PERSEVERANCE ROVER


PETER HILL will tell the story of how Heathcoat Fabrics Limited came to help NASA to deliver the Perseverance Rover to Mars from the founding of the company, through to the start of parachute fabric production in Tiverton and WW2 to the development of parachute fabrics for space exploration. The talk will include a detailed explanation of the development of the parachute fabric for the Mars 2020 mission that safely delivered to Mars in February 2021.
Friday 1st October

STONEHENGE AN ANCIENT OBSERVATORY


For Millennia Stonehenge has stood sentinel in our landscape ...but how was it built, what was its purpose and is it really linked to the Heavens? In this talk PAUL ADAMSON will attempt to answer these questions.
Friday 5th November

A HISTORY OF WOMEN IN ASTRONOMY


Historically, astronomy has been male dominated. Throughout history there have been a number of trail brazing women, such as Caroline Herschel, who worked to change that. But in addition, there were countless less well know women who were doing astronomy. This talk by MARY MCINTYRE is a celebration of women who worked in astronomy during different periods of history and some of the challenges they have faced.
Friday 3rd December

THE DISCOVERY OF THE PLANETS


For most of history there were definitely five planets. But that view of the cosmos was shattered in March 1781 when William Herschel spotted a small glowing disc which proved to be a new planet: Uranus. In the following 240 years further planets have been found by chance, or after lengthy searches and some following predictions. But planets have also been predicted and not found to exist and some have been classed as planets and then found not to be. RICHARD HOOK continues this story to the present day and features a fascinating cast of characters, national disputes and odd episodes.
2022
Friday 7th January

THE BEAUTY OF OPEN STAR CLUSTERS


Open Star Clusters make great observational targets for both experienced amateur astronomers and curious beginners. Many are accessible with just a dark sky and a pair of binoculars. As well as discussing what they are and where they can be found, TAMDAS Member RAY MATTHEWS will delve a little deeper into what these fascinating and beautiful objects can teach us.
Friday 4th February

CLIMATE CHANGE TEACHING AND THE CLIMATE AND ECOLOGICAL EMERGENCY


Three years after beginning a United Nations Accredited Climate Change Teachers' course, DR BEN KING, a teacher at Churston Ferrers Grammar School, Brixham, will let us know about his journey so far and bring us up to date with some of the scientific evidence of rapid Climate Change (and the ecological crisis) around the World.
Friday 4th March

NEW HORIZONS - FROM IMAGINATION TO REALITY


CHRIS STARR will give a resume of the history of our knowledge of the outer solar system, NASA'S amazing New Horizons mission, and what we have learned so far from it, including both the Pluto and Ultima Thule encounters.
Friday 1st April

CHARLATANS AND FRAUDS


One way to become famous in astronomy is to have your name associated with a discovery. STEPHEN TONKIN will tackle "fake news" from the Chevalier d'Angos, Frédéric Petit, Georg Waltemath, Leo Brenner (aka Spiridon Gopcevic) and Rudolf Steiner, and will tell how some of it still affects us today.
Friday 6th May

THE ULTIMATE FATE OF THE UNIVERSE


TIM WETHERELL will give a non-technical look at what we currently believe will ultimately happen to the universe, what we used to believe would happen to it and why we changed our minds!
Friday 10th June

TAMDAS ANNUAL DINNER


The Society's Annual Dinner will be held at The Keeper's Cottage, Kentisbeare, Cullompton. EX15 2EB Further details and menu choices will be given nearer the date.