Meetings and Events, 2017-18
Tiverton and Mid Devon A. S. events are held in the main hall at Blundell's Prep School at 7:30pm, usually on the first school-term Friday of the month. No previous knowledge of astronomy is necessary, so if you are at all interested you are very welcome to come along. Many of us are regular attenders at our informal meetings, but a warm welcome is always given to new faces.
For directions, please find us on Google Maps: visit maps.google.co.uk and type in the school's postcode, EX16 4NA. The school is on the south side of Blundell's Road. The school's full address is: Blundell's Preparatory School, Blundell's Road, Tiverton, Devon, EX16 4NA.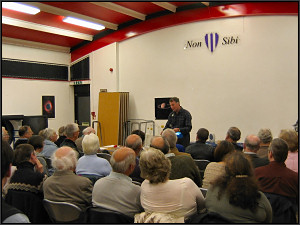 Date
Subject / Speaker
2017
Friday 11th August

Annual Starbecue


This ever popular event is open to members only and will be held in Paul's lovely barn from 7:00pm, at 12 Park Hill, Tiverton, EX16 6RW. Please bring food and drink.
Friday 8th September

On-Orbit Manufacturing


Torbay businessman Richard Arundal will discuss the research arm of Arundal Aeronautics Ltd, focusing on the field of on-orbit manufacturing. An orbiting facility that manufactures large spacecraft subsystems (such as antennas) which could revolutionise the way space is used and enable new space mission concepts. The purpose of this research is to design a mission concept that will utilise high-power lasers in space to use as manufacturing tools.
Friday 6th October

Dark Galaxies


Current theories of galaxy formation predict many more galaxies than have currently been found. Could it be that the galaxies are there, but they remain dark? Dark in the sense that they only contain 'dark matter' or maybe just gas or possibly become stars, but so few that they are very difficult to detect against the brightness of the night sky. Jonathan Davies will discuss these issues and describe some of the work he is doing at Cardiff University to reveal the Dark Universe!
Friday 10th November

Lunar Mission One - Space for Everyone


Paul Bennett's Lunar Mission One has been in the planning for 7 years. An exploratory robotic mission that will use innovative drilling technology to deliver extraordinary new insights into the origins of the Moon and the Earth. It will also be fully international with many countries working together and enabling people from all walks of life to be involved.
Friday 1st December

History of Women in Astronomy


Society member John Parratt gives a fascinating insight into some amazing women who have made outstanding and significant contributions to astronomy, dating back as far as the 5th Century.
2018
Friday 5th January

A Life on Mars


Bud Martin Budzynski will begin with a little bit of history regarding the Red Planet, then examine the engineering challenges of travelling to it and the problems for humans to get there... and back!
Friday 2nd February

Saturn - Lord of the Rings


Chris Starr will show what we have learned throughout history about Saturn, and what an amazingly diverse system it has proved to be with information from the highly successful Voyager and Cassini missions.
Friday 2nd March

Ten Ways the Universe Tries to Kill You!


From gamma-ray bursts to asteroid impacts, Stephen Tonkin will give an overview of cataclysmic events. This light-hearted but scientifically robust approach incorporates a lot of fundamental cosmological processes, from stellar evolution to galactic interaction.
Friday 6th April

TAMDAS Annual Dinner


The society's annual dinner will be held at the beautiful Fisherman's Cot, Bickleigh, Tiverton, EX16 8RW. Further details and menu choices will be provided nearer the date.
Friday 4th May

Into the Darkness But Shining a Light


After a brief AGM, renowned astronomer Paul Money will take a look at the amazing discoveries the New Horizons mission has made at Pluto.
Friday 8th June
Exoplanets - Discovering Other Worlds
Ever since astronomers started observing the night sky, they have dreamt of finding a 'second Earth'. In the last 20 years, we have identified over 3000 planets outside of our Solar System, many of which lie in the 'Goldilocks Zone'. Mark Woodland will look at how these planets have been discovered, the background science, some of their weird and wonderful characteristics, and look at the future of exoplanet science.