Meetings and Events, 2018-19
Tiverton and Mid Devon A. S. events are held in the main hall at Blundell's Prep School at 7:30pm, usually on the first school-term Friday of the month. No previous knowledge of astronomy is necessary, so if you are at all interested you are very welcome to come along. Many of us are regular attenders at our informal meetings, but a warm welcome is always given to new faces.
For directions, please find us on Google Maps: visit maps.google.co.uk and type in the school's postcode, EX16 4NA. The school is on the south side of Blundell's Road. The school's full address is: Blundell's Preparatory School, Blundell's Road, Tiverton, Devon, EX16 4NA.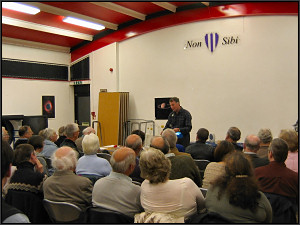 Date
Subject / Speaker
2018
Sunday 12th August

Annual Starbecue


This event is timed to coincide with the Perseids meteor shower. It is open to members and their family and friends and will be held in Paul's lovely barn at 12 Park Hill, EX16 6RW. Please bring food and drink and RSVP to Angela if you would like to attend.
Friday 7th September

Four Meteorites That Have Struck the Earth


Where do meteorites come from? Why do they strike the Earth leaving very little trace? How can we distinguish them from other rocks? DAVID DICKINSON will examine three places with meteorite remnants and one with very little evidence of its impact although future research will undoubtedly find an answer.
Friday 5th October

Ten Ways the Universe Tries to Kill You!


From gamma-ray bursts to asteroid impacts, STEPHEN TONKIN will give an overview of cataclysmic events. This light-hearted but scientifically robust approach incorporates a lot of fundamental cosmological processes, from stellar evolution to galactic interaction.
Friday 2nd November
How We Built the Hubble Space Telescope
Some have called the HST the most exciting scientific project undertaken by mankind. MIKE DISNEY was involved from the start in its design, construction and exploitation. All kinds of scary and exciting things happened before the goods came home!
Friday 7th December
Skylark: Britain's First Space Rocket
Few people have heard of the Skylark sounding rocket yet, in November 1957, it was the first British rocket to reach space and became the basis of Britain's earliest space programme. ROBIN BRAND will talk us through how hundreds were fired, launching thousands of scientific instruments into space.
2019
Friday 11th January

Starchaser and Living in Space


STEVE BENNETT will give us an update on the Starchaser Rocket Programme along with an interesting insight into how the human body behaves in space and the ways in which we cope.
Friday 1st February

If it Ain't Broke, Fix it!


SIMON HOLBECHE feels the spirit of William Heath Robinson is alive and kicking in back gardens across the UK and will present an interesting guide to astro DIY successes and failures in one garden near Bath.
Friday 1st March

Astrophysics is Everywhere


Astrophysics is everywhere even if we don't realise it. MARK WOODLAND will take us on a journey through the world of astrophysics from rocket navigation & black hole photography to parallel dimensions and other worlds.
March - TBC

Charterhouse Observatory
Wells and Mendip Astronomers have invited the members of TAMDAS to their Messier Marathon event. The evening will include a short talk and a tour of the observatory including their Fuller Telescope. Hot food and drinks will be available and there will a small charge of £3 to cover costs.

Friday 5th April

TAMDAS Annual Dinner


The Society's Annual Dinner will be held at The Globe Inn, 14-16 Lower Town, Sampford Peverell. EX16 7BJ. Further details and menu choices will be given nearer the date.
Friday 3rd May

Willy Wonka and the Giant Meteorite


After a brief AGM, MIKE BROWNE will take us to the beautiful medieval walled town of Nördlingen in Bavaria which sits in the centre of a huge ancient meteor crater 20 miles in diameter. The crater formed around 15 million years ago and up until recently was thought to be volcanic in origin. What has this got to do with Willy Wonka? Mike will reveal all in this historic and fascinating story.
Friday 7th June
Remembering Apollo
What did we get from the moon and what is its legacy? It is almost 50 years since the first boot prints were left on the dusty surface of our distant Moon. DAVID BAKER, an Apollo veteran, talks about those exciting days when humans first left Earth and stood on the surface of another world in space. But what was it like - and what did we get back from six visits which unlocked secrets about our own planet and its fragile environment we would never have known about had we not gone?